This website uses cookies policy in order to improve services and personalize the offer to customers in accordance with the protection of personal data. You can change the cookie settings here. Close
B-Flap I - Explosion isolation flap valve
Explosion isolation flap valve B-FLAP I is a mechanical device designed to prevent the transfer of flame and pressure between technologies during an explosion. During normal operation, the explosion isolation flap valve is kept open using the RPD (Reducer of Pressure Drop) mechanism. This solution significantly reduces pressure losses in the piping system, or due to airflow in the pipeline. During the explosion, the protected pipe will be closed and locked. Together with other safety elements, our flap valve forms an effective system for the protection of technological units. Most often, B-FLAP I is used in combination with an explosion venting device - VMP or FLEX. The explosion isolation flap valve is suitable for pipes with a diameter from DN 100 to DN 800. Explosion isolation flap valve B-FLAP I is certified according to EN 16447 standard.
If you use pneumatic conveying, vertical piping with a diameter of less than DN 100 in your technology, or you have technology designed for maximum explosion pressure or shorter installation distances, see GatEx.
WHERE IS THE RISK?
In piping systems, during material conveying between individual parts of the production technology, initiation source (e.g. hot surface, friction, a spark from equipment failure, etc.) can be easily formed, which in combination with the flowing air and the transported material creates an explosive mixture. The pressure wave and the flame bursting through the piping system can explode and thus destroy the connected technologies or endanger personnel within a close range.
ADVANTAGES
wide range of sizes from DN 100 - DN 800
mechanical equipment without the need for electrical energy and a control unit
low pressure losses
high pressure resistance
possibility of equipping with a position indicator and/or signaling the pollution of the flap seating surface
easy installation, inspection, and maintenance
mechanical locking system when closing the flap
suitable for technologies working with light metal dust
equipped with a special mechanism RPD (Reducer of Pressure Drop)
installation possible in a piping system consisting of elbows and/or obstacles
installation possible on technologies processing dusts with high values of explosion parameters, including light metal dusts (Al, Mg, etc.)
certified for combustible dusts with extremely low values of minimum initiation energy and temperature (MIE, MIT)
PREVENTION OF EXPLOSION propagation BETWEEN
filters
bins
mills
crushers
separators
cyclones
and other equipment where there is a risk of transmission of a dust explosion
Application of THE B-FLAP I IN COMBINATION WITH THE EXPLOSION VENTING DEVICE VMP
application of the B-FLAP I WITH EQUIPMENT FOR FLAMELESS EXPLOSION VENTING DEVICE FLEX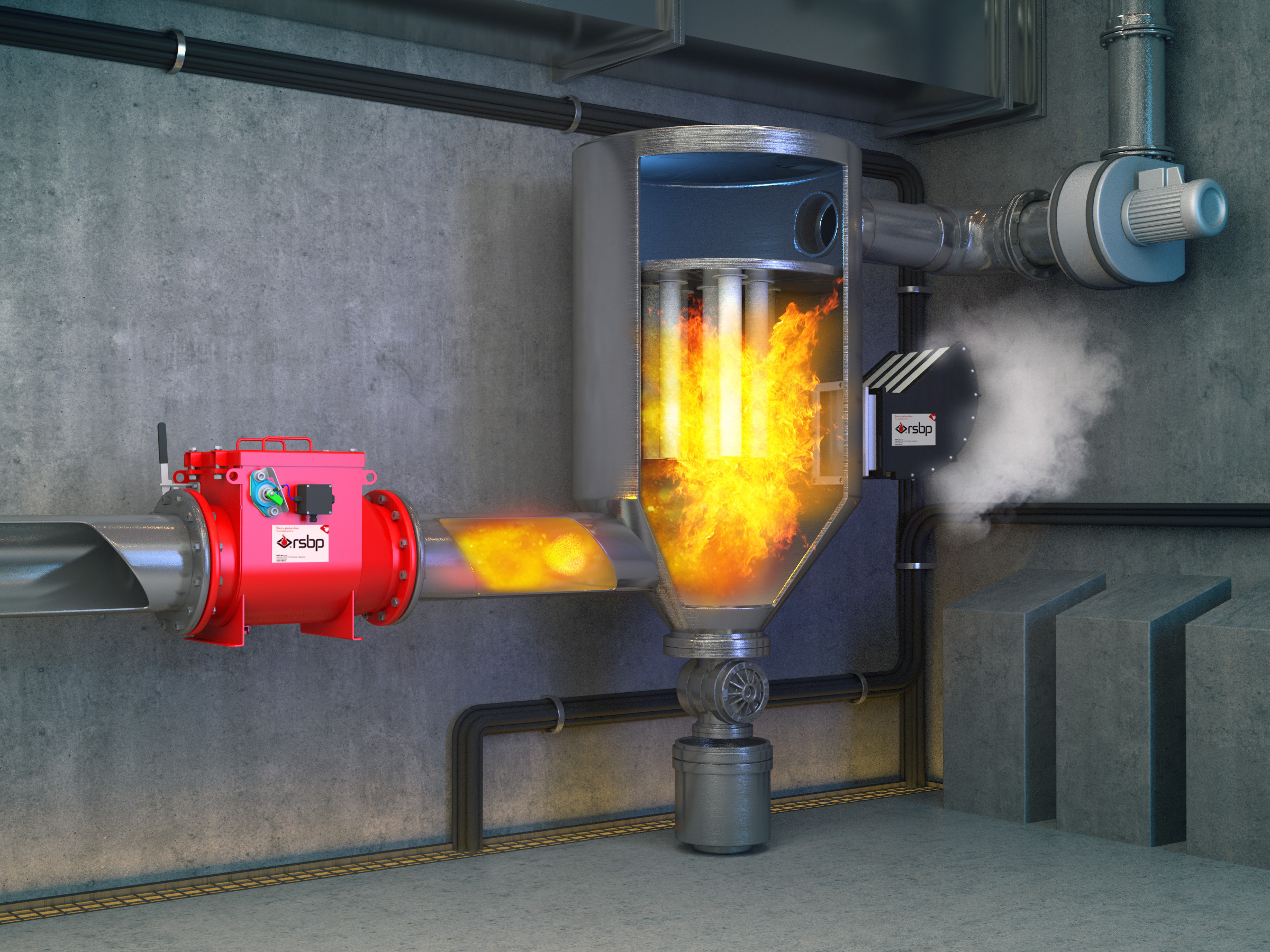 application of the B-FLAP I IN COMBINATION WITH HRD SYSTEM FOR EXPLOSION SUPPRESSION
TECHNICAL PARAMETERS 
 Type

ØA




(mm)

ØB




(mm)

ØC




(mm)

L




(mm)

N




(mm)

P




(mm)

Weight (kg)

Dust explosion class

Installation distance




min - max (m)

 DN 100
152
132
100
280
287
244
9
St1, St2
3 - 7
 DN 125
177
157
125
305
308
269
11
St1, St2
3 - 7
 DN 150
202
182
150
330
337
294
13
St1, St2
3 - 7
 DN 200
253
233
200
390
387
344
18
St1, St2
3 - 7
 DN 250
303
283
250
510
502
417
40
St1, St2
4 - 7
 DN 300
363
337
300
580
552
467
50
St1, St2
4 - 7
 DN 315
378
352
315
600
567
482
53
St1, St2
4 - 7
 DN 355
418
392
355
630
607
522
61
St1, St2
4 - 7
 DN 400
464
438
400
695
652
568
77
St1, St2
4 - 7
 DN 450
514
488
450
750
702
619
88
St1
4 - 7
 DN 500
564
538
500
800
752
669
101
St1
4 - 7
 DN 560
664
629
560
930
838
745
157
St1
4 - 7
 DN 630
734
698
630
1005
908
815
180
St1
4 - 7
 DN 710
814
775
710
1156
1103
962
305
St1
3 - 7
 DN 800
904
861
800
1246
1193
1052
351
St1
3 - 7